Nadszedł finał Waszej ciężkiej pracy! Czy kalendarze adwentowe zapełnione?
Mam nadzieję, że tak!
Jeśli dowiedzieliście się o kalendarzu dużo później i chcecie podjąć wyzwanie, to nie ma limitów czasowych. Wystarczy trzymać się wszystkich instrukcji, a na koniec sięgnąć do tego podsumowania – świątecznego prezentu
No to zaczynamy!
1. Ściągnijcie sobie zadanie finałowe i wydrukujcie lub uzupełniajcie w wersji cyfrowej:
2. Uzupełnijcie bardzo dokładnie zgodnie z Waszymi kalendarzami, a także instrukcjami:
STEP 1: każdy kawałek koła to jedna godzina, czyli 60 minut. Jest ich 24, bo tyle było dni w kalendarzu. Zaczynanie obojętnie w którym miejscu, ważne jest to, aby zakolorować dokładnie tyle ile żeście ćwiczyli i nie robić przerw pomiędzy dniami, na przykład:
15 minut – zakolorowana 1/4 kawałka
30 minut – 1/2 kawałka
Fajne by było jakbyście używali różnych kolorów. Przerw nie robimy po to, aby można było podliczyć punkty. Punkty liczycie na podstawie zamalowanych kawałków – tyle ile macie zamalowanych, tyle punktów. Maksymalnie można zdobyć 24 punkty (zamalowanie całe koło) jeśli suma Waszego ćwiczenia będzie wynosiła 24 x 1 godzina
STEP 2: to dodatkowe aktywności związane ze śpiewaniem. Każda ma przypisaną ilość punktów, wystarczy więc wpisać ile razy co było wykonane i podsumować. Zgodnie z kalendarzem i moimi namowami, minimalna suma punktów wynosiła 11 ( 3 x inhalacje, 3 x świąteczne śpiewanie, 1 x nagranie ćwiczenia, 1 x nagranie świątecznej piosenki, 1 x poćwiczenie z vlogiem na Mikołajki). Mam nadzieję, że macie dużo powyżej 11 punktów!
STEP 3: tu niestety pojawiają się punkty ujemne (oby było ich jak najmniej). Jeśli wśród Waszych wymówek pojawiły się te przeze mnie wspomniane, to wpisujecie ich ilość i znów podliczacie punkty. Choroby i obowiązki szkolne/pracowe mają wartość zero
STEP 4: podliczenie ilości wody! Każdy poziom na narysowanej szklance jest równy 2 litrom. Przypomnę, że każda kropla na Waszych kalendarzach stanowi jedną szklankę wody, tak więc 4 krople to 1 litr, 8 kropli to 2 litry, czyli zamalowany cały pasek. Podliczcie wszystkie zamalowane krople w całym kalendarzu i podzielcie przez 8, a wyjdzie Wam ile poziomów w szklance należy zamalować. I znów, ile pasków, tyle punktów
NA KONIEC: wielkie podsumowanie! dodajemy: punkty kroku 1, 2, i 4, a następnie odejmujemy punkty kroku 3 i mamy wynik!
3. Wróćcie proszę teraz do pierwsze testu z poprzedniego wpisu, tutaj dla przypomnienia:
Którą ścieżkę żeście wybrali?
4. Nie ma twardych granic punktowych tego podsumowania, ale:
a. jeśli wyszło Wam dużo mniej punktów niż ich minimum (60 pkt), to zdecydowanie podążacie pierwszą ścieżką, a śpiewanie jest tylko dodatkiem do tego czym jeszcze się zajmujecie. Fajnie, że sprawia Wam radość
b. jeśli jesteście blisko minimum 60, to druga ścieżka jest Waszą drogą, chcecie poświęcić czas swej przyszłości, a to śpiewanie wciąż powraca, co?
c. jeśli jesteście daleko ponad minimum, to zdecydowanie jest to level hard, fully prof! Trzecia ścieżka i inwestowanie w swój wokalny rozwój
I teraz jeśli wybraliście na początku grudnia ścieżkę, która w ogóle nie pokryła Wam się z ćwiczeniem i poświęcaniem czasu wokalnemu rozwojowi, to nic się nie dzieje! Wręcz przeciwnie, macie szansę teraz to przemyśleć, poznaliście bliżej swoje potrzeby i motywacje jakie Wami kierują. A więc może czas na zmiany i nowe działania? Nowy Rok to przecież idealny moment na to!
Cieszę się, że jesteście ze mną  i trzymam za Was mocno kciuki <3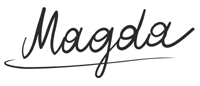 P. S. Poniżej przykładowo uzupełnione podsumowanie: